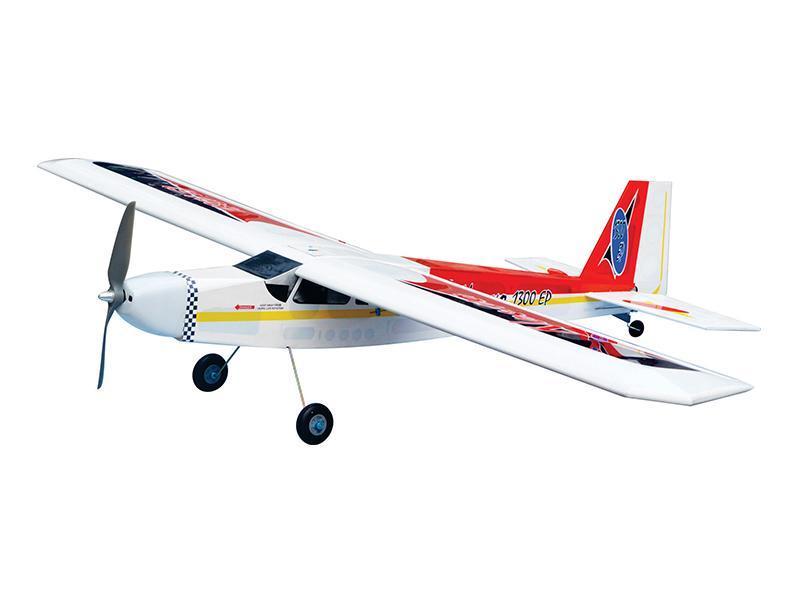 VMAR Nouvo 1300 EP ARF Kit - Red (51" Wingspan)
Quick View
VMAR Nouvo 1300 EP - Pure Electric Joy.Light weight, low cost and incessantly fun to fly, the VMAR Nouvo 1300 EP is an electric flyer that is ready and waiting...

Vendor: VMAR
VMAR Nouvo 1300 EP - Pure Electric Joy.

Light weight, low cost and incessantly fun to fly, the VMAR Nouvo 1300 EP is an electric flyer that is ready and waiting for the beauty of pure sport simplicity. From big sky loops, barrel rolls & hammerhead stalls, the Nouvo brings you back to the joys of flight, offering high wing stability that is both forgiving and oh so fun.

Spanning 51" in length, the high wing, semi symmetrical airfoil offers an ultra wide flight envelope with sporty levels of precision and control. Utilizing full span ailerons with (1) micro servo per aileron, the Nouvo 1300 offers deft precision and control, making this sporty little plane truly enjoyable to fly at every level possible.

Ultra easy to assemble with a bolt together, no glue assembly process, the Nouvo 1300 EP is flight ready in hours, saving you time at the bench for fun at the field. Pre-covered in vivid Polycote ECS covering, VMAR has done all the hard work for you, making this aircraft build a true fuss free affair.

Designed for nothing other than brushless power, the Nouvo awaits your electric motor of choice, with 350W - 500W power plants being ideal for excellent sport flight capability. Incredibly easy to pilot with a robust tail dragger landing gear layout, the balsa & ply construction is rugged and tough, making this plane ideal for beginners in search of a forgiving muse to enjoy at the field.

Low in cost with minimal investment to complete, the VMAR Nouvo 1300 EP offers epic levels of sport scale performance that will delight pilots of every skill. Incredibly forgiving with a gentle yet spunky persona, the Nouvo 1300 EP offers pure joy in the blue skies above, transforming your next flight into something truly memorable.


Features:

Fully Covered in Pre-Applied Polycote ECS
ARF Simplicity with a Bolt Together, No Glue Assembly
High Strength Balsa & Ply Construction
One Servo Per Aileron for Maximum Flight Precision
Two Piece Wing for Ease of Transport & Storage
High Wing Stability with Wide Flight Envelope
Full Span Ailerons for Excellent Control
Low Cost & Ultra Affordable to Finish
Simplified & Powerful Electric Design

Required for Flight:

(1) 4+ Channel Transmitter
(1) Receiver
(1) Brushless Motor
(1) ESC
(4) Micro Servos
(1) Propeller Matched to Motor
Included:

(1) VMAR Nouvo 1300 EP
(1) Landing Gear System
(1) Instruction Manual

Specifications:

Wingspan: 51.18" (1300mm)
Wing Area: 383 sq. in. (24.7 Dm2)
Weight: 1.9 lbs. - 2.1 lbs. (850g - 950g)
Length: 34.25" (870mm)
Transmitter: 4+ Channel Transmitter
Servos: (4) Micro Servos
Electric Power: 350W - 500W
Battery: 3S 11.1V - 4S 14.8V (2000mAh - 3000mAh)

Warranty Details:

All VMAR kits are trial fit at the factory and inspected to be free from defects & flaws in both material and craftsmanship at date of purchase. Warranty does not cover any components or parts damaged by use or modification. The pilot takes full responsibility for inspection of aircraft before and after each flight, making sure the aircraft is in flight worthy condition relating to safe control of aircraft. Warranty does not cover crash damage or failure of ancillary components unrelated to the aircraft.
People who bought this product, also bought